Samson 6 in 1 Juicer GB 9001
Product Description
Samson 6 in 1 Juicer
Voted "Best Buy" Masticating Juicer by Which Magazine, the Samson 6-in-1 Juicer is a multi-purpose, all-rounder kitchen companion, exceptionally popular with juicing and raw food enthusiasts, this is a super juicer at a very affordable price!
Please note: The Samson 6 in 1 in Ivory now features black buttons and labels.
Samson 6 in 1 Juicer Highlights
Efficiently extracts the enzyme and nutrient rich juice from wheatgrass, leafy greens, vegetables and hard fruits. It can also extract juices from aloe and pine needles -which no other existing juicers on the market have ever done before
Low-speed technology retains natural fruit/ vegetable flavors and preserves maximum nutritional power in the juicer
Not just a juicer – with its 6 in 1 features it can be used to homogenize, make nut butters, bean curd (Tofu), sorbets, baby food, pasta noodles, soups and dips. Also, can mince meat, fish and seasonings, and grind coffee beans
Easy to disassemble for cleaning and storage
Efficient energy consumption, low noise and heat output
Optional Oil extractor and Salad slicer attachments
Now with an upgraded augur and strengthened juicing screen
Best value juicer on the market
6 in 1 Functions
Vegetable Juicer
The Samson 6 in 1 can extract healthy juices from carrots, celery, parsley, spinach, wheatgrass, apple, orange, kale, cucumber, ginger, sprouts, and many other leafy greens. It can also extract juices from aloe and pine needles -which no other existing juicers on the market have ever done before.
Fruit Juicer
The low-speed screw prevents natural flavours and high nutritional contents from being destroyed from your fruits
Seasoning Mincer/Chopper
With the free Mincer screen the 6 in 1 chops and minces seasonings such as garlic, scallion, onion, red pepper, ginger, radish, and many others without destroying their natural flavour and nutrition (compared to a high speed blender/food processor).
Meat/Fish Mincer
The Samson 6 in 1 can also mince all kinds of meat and fish together with chopped seasonings such as garlic, pepper, and onion to easily prepare for a delicious meal.
Pasta and bread stick maker
The 6 in 1 can be used to make bread sticks, cookies and pasta noodles from dough or steamed rice.
Make Nut butters & Sorbets
Make nut-butters from peanuts or almonds and your favourite sorbets
Product Demonstration
Optional Oil Extractor Attachment
Increasingly popular and unique to the market the Samson 6 in 1 can be used as an Oil extractor using the optional oil extractor attachment. Now you can extract oil from flax seeds, sesame seeds, hemp seeds and other dry foods with ease. Just like juicing fruits and vegetables, you can now reap the benefits of producing high quality, fresh organic oils.

The attachment is easy to install. It simply replaces the front end juicing parts and slides into the same slot as would the augur. The stainless steel auger crushes seeds fed into the chute and at slow speed presses oil into the collection jug. Then taste the difference between fresh pressed organic oil, packed with essential fatty acids, omega 3 and 6. The Samson oil extractor is easy to disassemble, clean, and reassemble for more use - it only takes about 15 seconds. Comes in ivory and black also.
Optional Salad Slicer and Ice Crusher Attachment
Your Samson 6 in 1 can also be used with the optional salad slicer attachment, slicing at a low speed to prevent natural flavours and high nutritional contents from being destroyed. This can also be used as an Ice crusher. Comes in ivory and black also.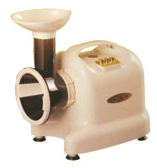 Juicy Rating
Technical Specifications
Model Name - GB-9001
Weight - 14.6 lbs.
Dimensions - Length: 15" , Width: 12" , Height: 7"
Rating Power Voltage - 220-240V / AC / 50-60Hz
Rating Power Consumption - 200 W
Motor Speed - 1,750 RPM
Auger Speed - 80 RPM
Squeezing Power - 1.5 HP
Motor Capacity - 160 W (1/3 HP)
Gear Length - Total 6-14/25"
Gear Length, Cutting Portion - 5-1/5"
Carrying Handle Yes
Parts to clean after use - 1 Gear, 1 Housing Piece, Screen, Pusher
Replacement Parts Available
Warranty - 10 Years for Motor, 5 Years for Operational Parts
*Maroon coloured model is out of stock
Parts Included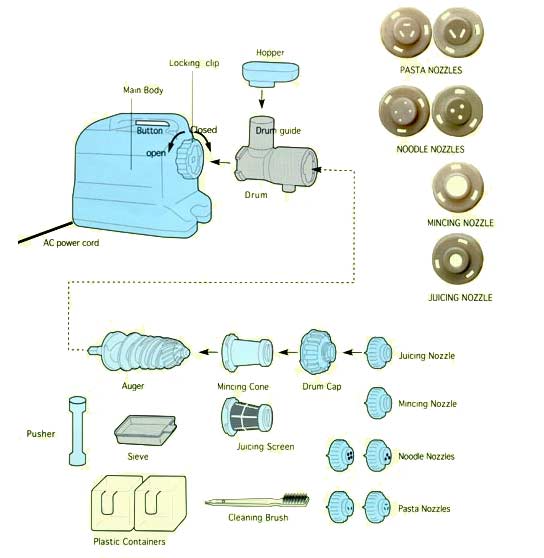 Customers Also Viewed
Product Reviews
Showing reviews 1-10 of 40 | Next
Just what I need.

Posted by Marcin Szmulski on 5th Apr 2019

Finally I can make leafy juices, green is my favourite now.

Great juicer

Posted by Alison on 2nd Oct 2018

Delivery was really quick. Really nice quality juice, still haven't used it for anything else but do intend to have a go with the mincer for garlic and ginger mainly. Very easy to clean, good value for money

What a juicer

Posted by Terry ralph on 28th Oct 2017

I finally get to make my own super healthy juices,the slow motion of the augur is extremely therapeutic as I can see just squeezing happening,as against the irritatingly noisy bullets I have happily retired .

Great juicer

Posted by Brendan on 29th Sep 2017

Top juicer. Very easy to use and clean

Great juicer

Posted by Lin on 11th Oct 2015

Have been using it a couple of months now and find that though you do need to chop your veg etc into smaller pieces it definitely makes great juices, full of goodness and we are delighted with this product so far. No issues regarding any parts cracking, as had been mentioned in other online reviews, yet and hopefully we won't have that issue. I think you have to take your time juicing so if you are in a hurry each day for your juice this may not be the product for you but if you want good value for money and a good product from it I would recommend. Very easy to clean, a quiet machine which is good as some are like jet engines! So we will keep using and enjoying!

Samson 6 in 1

Posted by Unknown on 11th Oct 2015

This is my first juicer and I'm really happy with it. Very easy to use and clean. Juice tastes superb. The manual is not great but as its so easy to assemble using the pictures that doesn't matter much. Would highly recommend this juicer.

very pleasing

Posted by Unknown on 10th Jul 2015

I thought the waste extracted was quite moist still. It is very easy to clean. It looks good. It is very pleasing to work with and a welcome addition to the kitchen area. Very solid too.

Fantastic

Posted by Benny on 3rd Apr 2015

I changed to this juicer from a manual one, predominantly juicing wheatgrass. It has been life changing! Yes it is significantly more expensive than a €40 manual juicer, but I feel it is totally worth it.
Anyone who takes wheatgrass will know it is not the most pleasant of experiences so it is important to make the process as easy as possible and this juicer does exactly that.
It is easier and quicker to assemble and disassemble. I always read that electric juicers were more dofficult to clean.... rubbish! It is just as easy as a manual one. I also read that electric juicers are not good as they heat the juice, damaging enzymes in the process. This is also rubbish. The juicing takes place far away from the motor and it rotates at a very slow speed, possibly slower than the speed yoy would rotate your manual juicer. However, it is relentless, you always have 2 hands free so it literally is a case of how quick you can get another handfull of wheatgrass ready to place in the juicer.
I find myself taking more juice now and looking forward to the experience, not dreading it!
I understand the above review mostly compares manual to electric, but on the Samson juicer itself, it looks great in the kitchen, is very quiet and easily cleaned. It is also very competitively priced, you could pay hundreds more for a few extra features but I think this does everything you would need.

EXCITING to have Good fresh Juices

Posted by John O'Regan on 21st Feb 2015

It produced fresh juices & Fibres very well for 1.
taking about 30 minutes including wash up
I have only done carrots & apples so far.
it is easy to assemble & take apart

un prix raisonnable

Posted by Christine on 14th Nov 2014

Ce n'est pas la"rolls-royce"des extracteurs, mais cet appareil fait un bon travail.Il faut couper les végétaux en petits cubes et ne pas bourrer. Les verdures passent très bien.Je filtre les jus dans un "sac à lait".Le moteur n'est pas bruyant. Les accessoires se lavent facilement, mais on doit rincer le tamis en cours d'extraction pour obtenir 3/4 de litre de jus.Le service-client est très réactif,l'expédition rapide et soignée: bravo!
Showing reviews 1-10 of 40 | Next