Green Star Elite GSE 5000 Twin Gear Juicer
Product Description

The Green Star Elite GSE-5000 is the newest addition to the world's most reputable line of juice extractors – the Green Star range. Based on feedback from loyal customers and juice connoisseurs, Tribest, the makers of the Green Star range have come up with a new sleek design, even more effective juice extraction through a revolutionary change to their twin gear technology and a number of other improved features in the design of the new Green Star Elite.
Well known for introducing twin gears to juicing with two stages to the juicing process - crushing and pressing, Tribest now reveal Jumbo Twin Gears with 3 stages by adding a mixing stage on the gears. Inspired by the work of the Gerson Institute dedicated to the healing and prevention of diseases in a natural way, they strongly recommend mixing the pulp from apples and carrots together while juicing. The new Jumbo Twin Gears in the Green Star Elite Juicer allows for the mixing of the pulp so that cell membranes can be easily opened to allow more minerals and juice to be extracted.
New unique 3 stage juicing process in the GSE-5000
Stage 1 is the crushing and cutting of veg and fruit, slowly without the damaging heat from centrifugal juicers.
Stage 2 is the mixing of the pulp so that cell membranes can be easily opened to allow more minerals to be extracted. By adding the mixing stage in between the crushing and pressing stages, juicing soft fruits has also become much easier and more effective.
Product Overview
Stage 3 is the pressing part of the process. The shape of the gears at the pressing stage is different from the mixing stage and forces the produce against the screen separating the juice from the pulp as hard as possible thus producing a fresher juice with a higher nutritional value.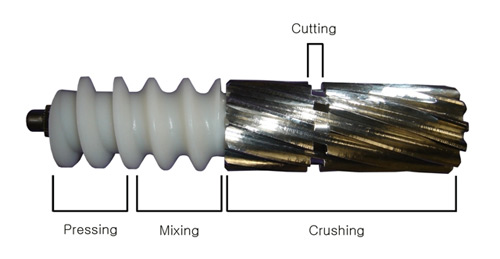 Indeed, the very fact that the Jumbo Twin Gears are longer than anything else on the market means that produce is being juiced for longer leading to higher yields. Indeed, the Green Star Elite produces an even higher juice yield than the other Green Star Juicers which already led the market for juice yield. This is seen clearly by the very dry pulp ejected from the machine at the end of the process.
The Bio-magnets included in the Green Star range are also included in the Jumbo Twin gears ensuring that the more minerals are "pulled" into the juice and increasing the juice's bioavailability meaning your body can more effectively absorb and utilize the dissolved minerals.
Other new features of the Green Star Elite:
New locking mechanism – a new one snap step making it quick and easy to assemble and disassemble the machine.
Easy Clean up – by combining parts through the new sleek design there are fewer parts than other competitive machines which means less to clean.
Dishwasher Friendly - all components of the Green Star Elite are now dishwashable
Carrying handle – to allow easier movement of the machine between storage and kitchen worktop
Lighter in weight - All Green Star Elite components such as the twin gear housing and outlet casing are now lighter in weight than its predecessors.
Product Video
Green Star Elite GSE-5000 Parts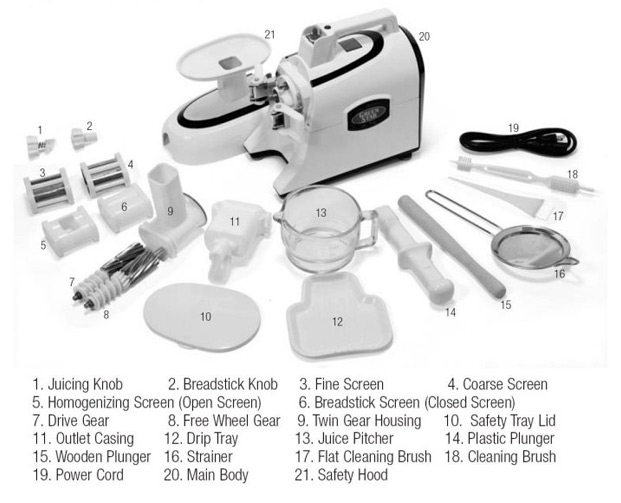 Juicy Rating


Specifications
464 (w) x 175 (h) x 318 (d) mm
Built-in Cord Storage
110 RPM Turning Speed
190 Watt Motor
5 Year Warranty
Shipping Weight: 30.5 lbs
Manufactured by: Tribest Corporation
Colour: White
Green Star Awards
2007, Gold Award of Excellence in the equipment category at the 2007 Canadian Health Food Association's (CHFA) trade show.
Oct 2005, Gold Award of Excellence – Equipment ALIVE Academy of Nutrition Awards.
2004 Best Health Benefits Juicer Happyjuicer.com Awards
Sept 2004, Gold Award of Excellence – Equipment ALIVE Academy of Nutrition Awards.
June 2003, 1st Place Stiftung Warentest - (German Consumer Reports)
Germany.
Sept 2002, Silver Award of Excellence – Equipment ALIVE Academy of Nutrition Awards. Awards won by the Green Power Gold model include:
Sept. 1996, Best Product – Equipment and General Health ALIVE Academy of Nutrition Awards.
Oct. 1994, Gold Prize at the New Products Exhibition Germany.
Sept. 1994 Silver Prize at the Int'l New Technology Exhibition Los Angeles, U.S.A.
May 1994, Grand Prize at the '94 World Invention Contest Pittsburgh, U.S.A.
May 1993, Grand Prize at the '93 World Invention Contest Pittsburgh, U.S.A.
Product Reviews
GSE-5000 review - 2 weeks use

Posted by ALEXANDROS SIAKIDIS on 6th Nov 2016

I use it for one two weeks on daily basis and i believe it is something valuable for your home. It is now 2 years that i was thinking of purchasing this green star. In use i believe it has no limits as it can juice almost everything from greens to fruits. I am glad for this purchase even thought it is expensive, hopefully it will pay back the money i gave in long time of use. I have another juicer and the amount of juice in compare is almost half. So with green star u have economy into purchase of vegies. .. In the end i am glad of it. And for the record , i am glad with the price of the site and also the proffecionalism of their work. First time i made my order and i am already a happy customer that will advertise them as they do business the right way.
With regars.
Alexandros From Cyprus

Green Star Elite GSE 5000

Posted by Arek on 27th Jun 2015

It's very good. Lots of juice,lots of taste from everything.Bad is only design:
1- when u push fruits plastic part of juicer bends down 1cm and weird noise start coming out,
2- twin gear- Ha! Only 1st gear is connected to engine, 2nd gear is just taking energy for turning from the 1st one,and hole where 2nd gear is fitted is very hard to clean.
3- like in every juicer u have to clean lose peaces and here is the same, brush is very helpful,but cleaning side of main body where is twin gear connection is very hard-too many curves.
I gave 5 stars because for me the most important is that GSE5000 do the job.

Great juicer!

Posted by Dave on 13th Jun 2015

This is a very efficient and reliable machine which gets a lot more juice out of our veg than our previous centrifugal juicer. It is a bit more fiddly to clean, especially the filter screen, but gets easier with practice. Green Star were highly recommended by friends who have had trouble-free juicing for over ten years on the same machine. Say no more.

Excellent Juicer

Posted by Babs on 20th Aug 2014

At first when we got this juicer we hated it as we compared it to our old Philips one.But once we gave it a chance we loved it, easy to clean even though there are a good few parts, the pulp is so dry we now can make veggie burgers with it.So no waste. The life span of the juice is alot longer so we can make a load of it and drink through the day,we only juice once a day now.Love it !!

Green Star Elite GSE 5000

Posted by Unknown on 15th May 2014

Looks great, love carrying handle. Pain & time consuming to clean. Produces great juice. Thank goodness I can juice a large jug & keep for 2 days supposedly without deterioration of nutrients? Feed chute is small so fruit/veg needs to be cut up to fit through. Bought the best I could find, so a little disappointed. Would appoint 5 stars for juice, but 4 because of cleaning cutting/small chute.

poor design prevents greenstar elite from scoring five stars

Posted by paulafortune123@gmail.com on 16th Feb 2014

It's a workhorse of a juicer and it tackles most fruits and vegtables efficiently. The exception being wheatgrass which clogs the augers. What is annoying though and there is no getting away from this , is the difficulty in cleaning the part of the machine where the twin gear housing meets the drive shaft. The cleaning brush is inefficient and fails miserably. Would it not have occured to the designers to use canlilever hinges instead of the latches they went for?????.