Product Description

A favourite with raw food enthusiasts, the Green Star GS 2000 is the most popular twin-gear juicer on the market. The Green Star GS 2000 uses twin gears to crush produce, and expel the highest quality juice richer in taste, and deeper in colour than all other juicers. The only juicer you will ever need, the GreenStar juices hard roots (carrots, ginger) to fibrous stalks (celery, rhubarb) to even the toughest leafy greens especially kale & wheatgrass. No other juicer is better at unleashing every drop of nutrition from fresh produce, whilst retaining the enzymes and vitamins to boost your health.
The GS 2000 is the upgrade of the GS1000. It is the same model but upgraded to include a Coarse Screen, Strainer and Drip Tray.
Green Star Twin Gear Technology
The Green Star uses twin gears to crush the produce and expel the juice. These twin gears are made of Stainless Steel with plastic ends and are patented as they contain magnets and bioceramic materials in them. These magnets and bioceramic materials are said to extract higher levels of minerals out of the produce and also give fresher juice that's enzymes and vitamins have a longer shelf life.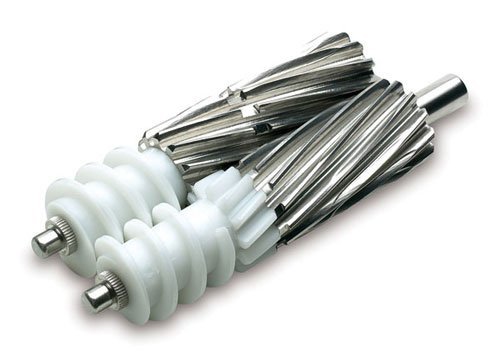 The twin gears operate at a very low speed (110 RPM) when compared to many other juicers which helps to considerably slow down the oxidation of nutrients. There is also virtually no or very little heat transfer thus helping in retaining enzyme content. Indeed the technology of the Green Star twin gears enables carrot juice to be stored for up to 2 days in the fridge without significant loss of nutritional value.
Award Winning Green Star 2000 Highlights
Exclusive low-speed, quiet and heavy-duty Twin-Gear impeller press system operates with minimal noise, friction and heat, preserving even the most fragile nutrients
Heavy duty Twin Gear Juicing Technology produces higher juice yield and enhances nutritional value of every drop
Automatic pulp ejection for continuous juicing and easier clean-up
Robust plastic design easy to clean using special brush provided
Impeller press system of twin gears enables continuous juicing
Able to juice virtually anything, including wheatgrass, hard fruits and vegetables
Able to homogenise foods to make sorbets, nut butters, baby foods and more
Carries a 5-year parts and labour warranty
Green Star 2000 Parts Included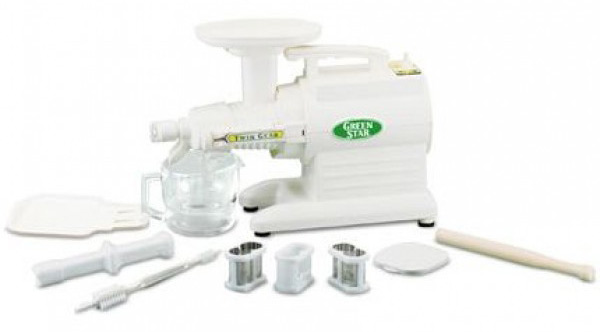 Homogenising Screen
Vegetable Screen
Soft-Fruit Screen
Plastic Pusher
Wooden Pusher
Brush
Glass Jug
Vegetable Adjuster
Soft-Fruit Adjuster
Drip Tray
Strainer
Juicy Rating
Specifications
6.5 [w] x 12 [h] x 18.5 [d] in
Built-in Carrying Handle
Built-in Cord Storage
110 RPM Turning Speed
190 Watt Motor
5 Year Warranty
Shipping Weight: 30.5 lbs
Manufactured by: Tribest Corporation
Colour: White
Green Star Awards
2007, Gold Award of Excellence in the equipment category at the 2007 Canadian Health Food Association's (CHFA) trade show.
Oct 2005, Gold Award of Excellence – Equipment ALIVE Academy of Nutrition Awards.
2004 Best Health Benefits Juicer Happyjuicer.com Awards
Sept 2004, Gold Award of Excellence – Equipment ALIVE Academy of Nutrition Awards.
June 2003, 1st Place Stiftung Warentest - (German Consumer Reports)
Germany.
Sept 2002, Silver Award of Excellence – Equipment ALIVE Academy of Nutrition Awards. Awards won by the Green Power Gold model include:
Sept. 1996, Best Product – Equipment and General Health ALIVE Academy of Nutrition Awards.
Oct. 1994, Gold Prize at the New Products Exhibition Germany.
Sept. 1994 Silver Prize at the Int'l New Technology Exhibition Los Angeles, U.S.A.
May 1994, Grand Prize at the '94 World Invention Contest Pittsburgh, U.S.A.
May 1993, Grand Prize at the '93 World Invention Contest Pittsburgh, U.S.A.
Green Star 2000 Product Video
Customers Also Viewed
Product Reviews
Exceptional, efficient juicer

Posted by Nigel James on 4th Oct 2019

This is the easiest product I have had the pleasure to use. It is so efficient at what it does and it is very versatile in it's operations.

5 stars

Posted by ANNA on 2nd Apr 2015

It works very well for juice and other peanut butter