Description
Sana Horeca Juicer EUJ-909 - Premium Commercial Juicer
Juicers.ie are pleased to offer you this brand new premium commercial cold press juicer. We have been waiting a long time for a high quality commercial cold press masticating juicer, and we believe the new Sana Horeca Juicer EUJ-909 ticks all of the boxes. Many cold press juicers state they can be used commercially, and we have trialled a lot of them. However, we can say that without a doubt this will truly stand up to the demands of a commercial environment such as a juice bar, cafe and restaurants. This will undoubtedly raise the quality of juice that you can provide to your customers.
High Yield - Low Wastage - Quiet Environment
Thanks to the high-quality induction motor you will produce high-quality juice due to the slow rotation of the motor at only 60rpm. This slow rotation allows you to extract the maximum nutritional value from the fruit and vegetables but not only that, from a commercial point of view because you can extract more juice from the fruit and vegetables you will get a much drier pulp. All of this means that you have to spend less money on buying fruit and vegetables to get the same amount of juice as you would on other commercial centrifugal juicers. Other benefits will be that you will get a much smoother, sweeter juice with hardly any foam.
The Sana Horeca EUJ-909 will also give you the benefit of being silent. Unlike some of the other commercial centrifugal juicers which can reach upwards of 60 decibels, the Sana EUJ-909 is almost silent in comparison giving your customers a nicer environment.
What does the Sana Horeca Juicer EUJ-909 Juice?
This commercial juicer has been designed to be very versatile and can juice pretty much everything you throw at it. It is ideal for apples, pears, oranges, kale, spinach, berries to name a few and we always recommend using the freshest fruit and vegetables to get the best results.
One of the unique features of this commercial juicer especially when compared to other comparable juicers is that it has a juice cap, and this means you can mix the juice well and also add different ingredients such as milk yoghurt or even alcoholic beverages in bars while juicing.
Another key benefit of having the juice cap is that you can clean the juicer very efficiently when you have finished juicing. You simply close the juice cap and pour water down the feeding chute. The spinning blades will continuously spin cleaning the juicing head, saving you a lot of time in the process. You simply open the cap and let the water out.
Product Video
Easy Operation and Clean Up
One of the key challenges in a commercial environment is that you need to be able to quickly and easily clean up and get ready for the next juice batch. Although the Sana Horeca Juicer EUJ-909 is incredibly slow at 60rpm because of its unique large feeding chute, it requires little to no preparation with chopping the fruit and vegetables down to size. This means that overall you can produce a good volume of juice in a short period.
Cleaning the Sana EUJ-909 is a simple task, most of the parts simply need to be rinsed under running water, and it is ready for the next batch of juice. The main part that needs to be cleaned is the juicing screen, and even this is done very quickly through the use of a specially designed cleaning brush.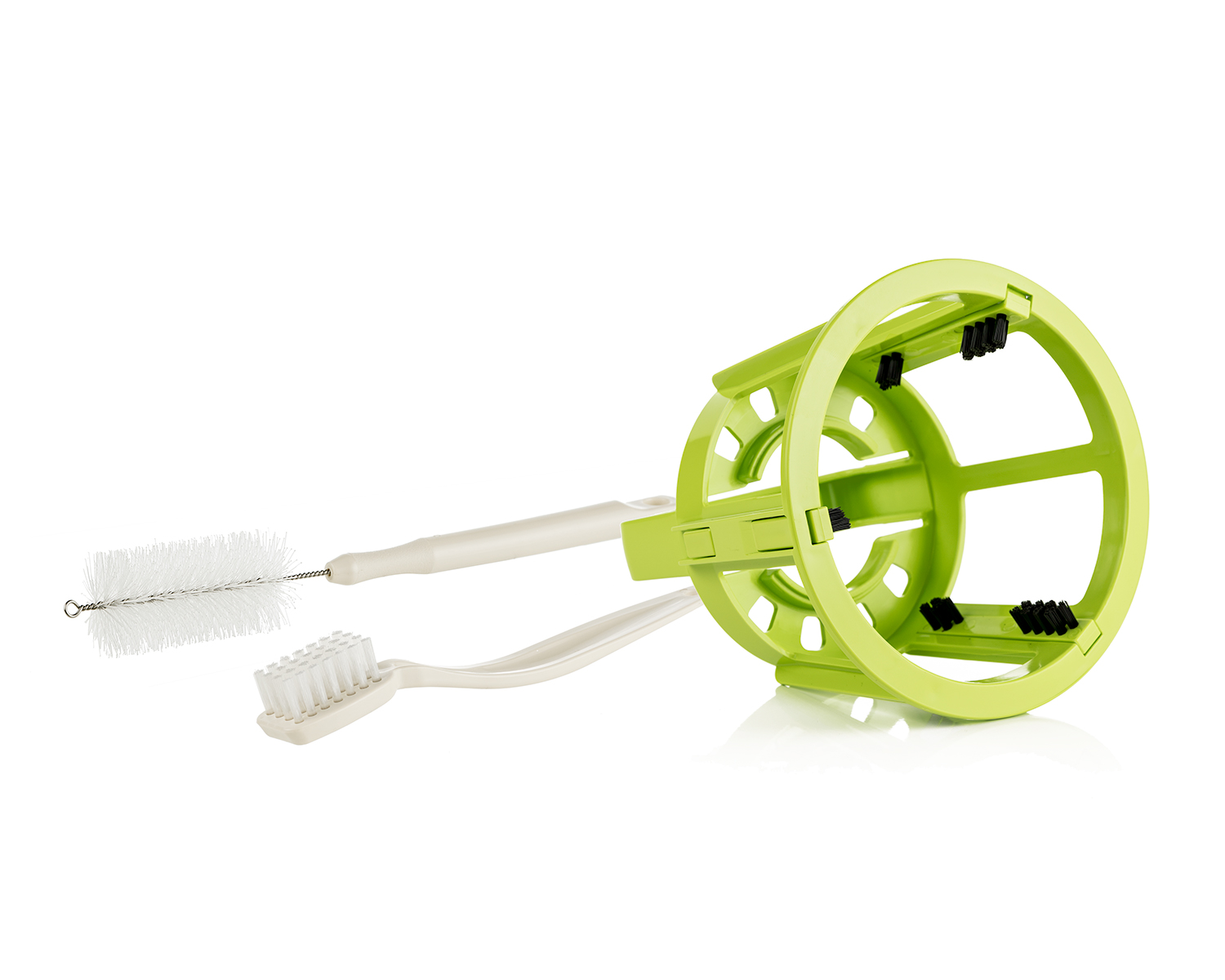 Includes A Second Juicing Head Attachment
The Sana Horeca EUJ-909 Juicer comes with an additional juicing head; this means that between juices you can simply change the entire juicing head without any cleaning. For example one of the juicing head attachments can be used for soft / citrus fruits while another can be used for leafy greens / celery. Having the extra juicing head does increase the versatility of this juicer.
We at Juicers.ie do believe this is a fantastic commercial masticating juicer and one which many people in the commercial sector have wanted for some time. This juicer will solve many if not all of those issues previously faced with other domestic masticating juicers used in the commercial sector.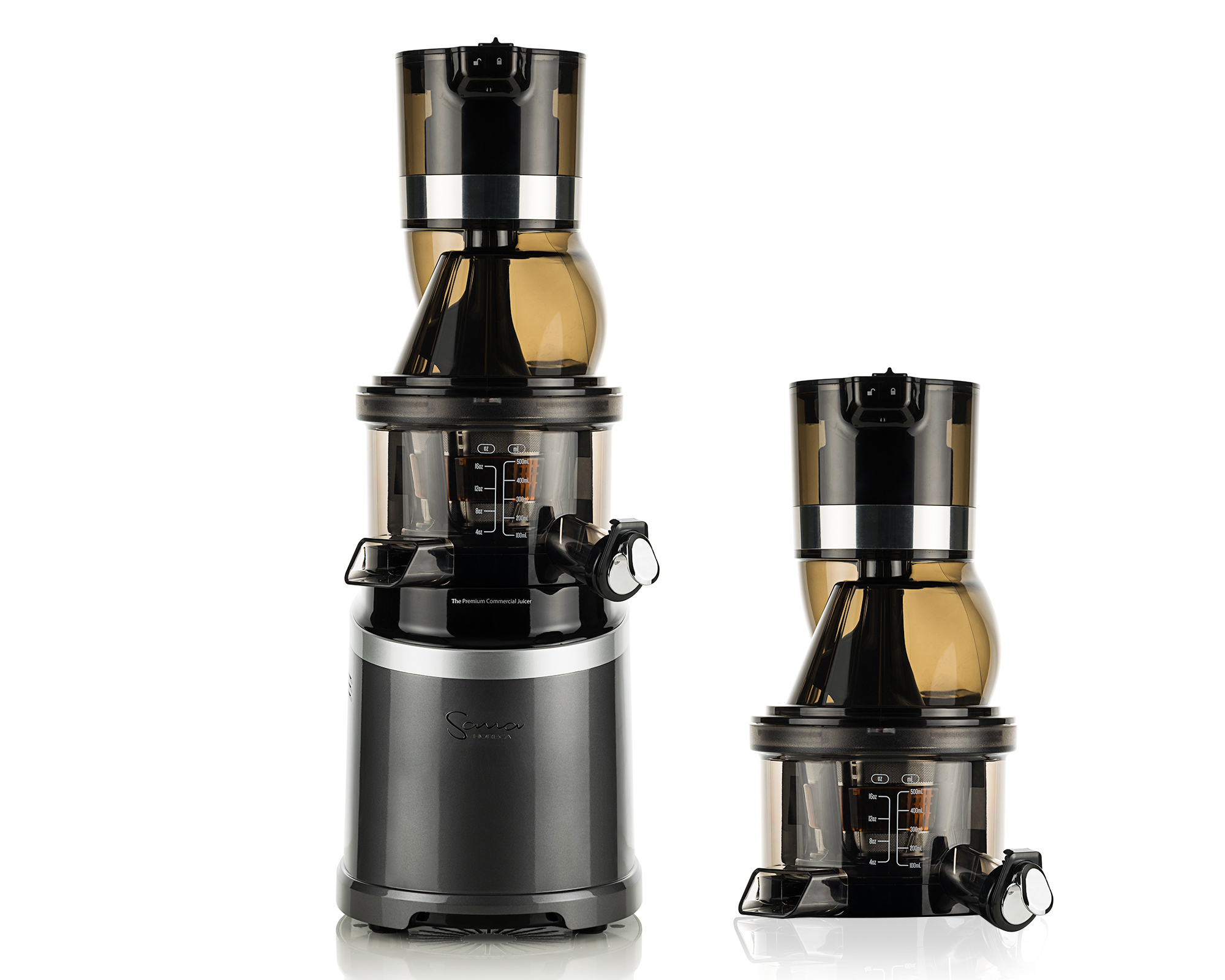 Juicy Rating
Technical Specifications
Colour: Metallic Grey
Juicing Process: Single Auger Vertical Masticating Juicer
RPM: 60
Power: 200 Watt
Weight: 9.1 KG
Dimensions: 17.5cm (D) x 23cm (W) x 51.5cm (H)
Warranty: 1 Year Commercial (parts/motor)
* Please note this juicer can be used for 30 minutes continuously with 15 minutes cool down time