Description

The Lexen Sprouter is the perfect solution to grow sprouts and wheatgrass in your home. Its compact, modern and functional in design and makes growing wheatgrass and sprouts easy and fun for everyone.

The Lexen Sprouter allows you to grow sprouts with or without the use of soil. You can grow up to four different sprouts per tray. Two trays are included with the Lexen Sprouter so you can grow up to eight different types. It also includes an easy to follow instruction booklet on how to grow your own wheatgrass and sprouts.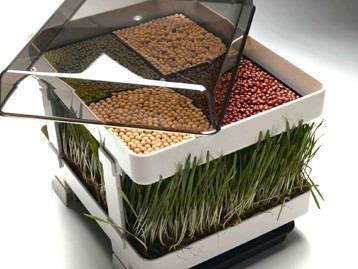 Easily use the Lexen Sprouter to grow:
wheatgrass
bean sprouts
alfalfa sprouts
parsley
basil
oregano
thyme
and so many other herbs!
Growing Wheatgrass
Growing your own wheatgrass and sprouts is fun & Easy. It is also very economical, and only pennies per shot of wheatgrass. Combine this sprouter with the excellent value Lexen Manual Juicer and you'll be juicing your very own wheatgrass in no time!
It typically takes 10-14 days to grow a tray of wheatgrass. The average fully grown tray will yield approx 300ml of wheatgrass juice or 10 typical 30ml shots.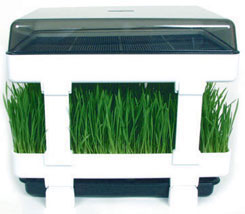 Lexen Sprouter Key Features:
Easy to clean - Trays can be easily rinsed off soap & water
Comes with 2 trays - each tray has a growing area of 300mm x 215mm and comes with an insert that can be used to divide the growing area for 4 different sprout varieties
Expandable to four trays
Tray separation is 140mm when the separators are used
Includes pre-soaking seed and watering jar
Grow up to 4 different sprouts per tray
Light, compact and attractive design
Easy to assemble and use
Use with or without soil or compost
Detailed instructions on growing wheatgrass & sprouts included
Affordable
1 Year Warranty
Made of tough non-toxic polycarbonate
Specifications
Dimensions LxWxH (mm): 279x229x279
Warranty: 12 months