Description

Dry and heated air is often the cause of many physical discomforts such as congested sinuses, dry mouth, nose and eyes. The Humio can protect your family and home by improving the air quality but also produce the experience of a therapeutic aroma by adding moisture to dry or heated air. Compared to vaporizers which boil water and release a warm steam making a room feel muggy if overused, Humio releases a cool mist which can be used all day without interruption and discomfort. Humio's clean, elegant design will complement any room while providing a soothing and relaxing atmosphere. The nightlight can enhance any room's decor while illuminating the room softly with the shades red, orange, blue and green.
Key Features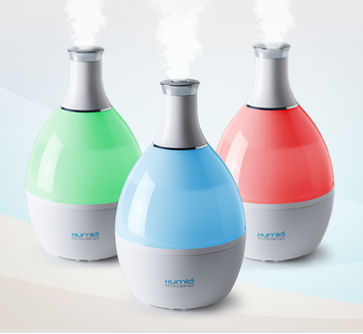 Ultrasonic Cool Mist
The vapour released by the Humio is not steam but a cool delicate mist to add moisture to dry or heated air.
Nightlight
The nightlight can create a calm and relaxing ambiance in any room
It flows through a sequence of four subtle attractive colours - blue, green, red and orange
Or, you can set it to remain fixed on a colour of your choice
It can be used as a night lamp with or without the humidifier function being on
Or, you can switch it off entirely and just have the humidifier on
No filter
There is no filter in the Humio which avoids any expensive replacements. Filters can also get clogged up which can affect the quality of the air so the Humio is a cost effective, cleaner humidifier than competitive products.
Whisper quiet
The Humio operates with minimal power using ultrasonic sound vibration to create the mist rather than any motorised mechanism. The Humidifier can be set or high or low.
Aromatic Oils compartment
For that added relaxation the Humio is designed with an essential oils compartment which allows you to add your favourite oil so that you can enjoy a cool aromatic mist which softens the air and stimulates the senses.
Power saving
The Humio can humidify 100 square feet and you can benefit from 10 hours of continuous operation without needing to refill it - all whilst consuming less power than a light bulb!
Product Video
Specifications
360º Rotating Mist Outlet – A rotating nozzle designed to easily change the direction of the mist
2.3 Litre Water Tank – For up to 10 hours of use
Removable Neck – Unscrews for easier cleaning and can be used as a handle when transporting the water tank for refills
Cleaning Brush – Neatly nested in the base for simple storage
Easy Push Buttons – Adjust Humio™ to your desired setting with the touch of a button
Aromatic Oils With Humio™ – Add your favourite essential oils to the oil sponge and enjoy a cool aromatic mist which not only softens the air but stimulates the senses
1 year warranty
20.3cm D x 35.5cm H / 1.3 kg