AlkaViva Ultrawater pHD Alkaline Pitcher
AlkaViva Ultrawater pHD Alkaline Pitcher
Product Description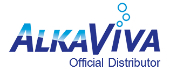 AlkaViva UltraWater PhD Alkaline Pitcher
We're happy to show off the range of non-electric ionisers from AlkaViva which represent the very best quality on the market. With a desirable negative ORP and a pH level of 8.5-9.5, the AlkaViva non-electric ionisers boast their market-leading UltraWater system for filtration. Enjoy all of the advantages of purified alkaline water, now for less than £100.
Introducing UltraWater - the top performing domestic global water filtration system
Following three years of careful research and extensive development, those clever people at AlkaViva have produced the stunning UltraWater design. A world first, it's now possible to have a filter that completely removes the greatest number of contaminants where compared to every other filter system used domestically, but simultaneously retains the desirable minerals and alkaline pH level.
Fluoride in the water is a concern for many people but with UltraWater there are no worries as it removes this element to levels which are non-detectable. In addition to getting rid of the fluoride it also removed a number of other undesirable elements such as pesticides, pathogens, hormones, pharmaceuticals, lead, mercury, arsenic, chlorine, chromium 6, volatile organic compounds, chloramine, agricultural run-off, detergents and industrial waste (to name just some).
UltraWater outperforms every other passive filtrations system on the domestic market and even better, is a small compact design. With one small jug-sized device you'll have access to cutting-edge technology which not just filters water, but provides real peace of mind.
Demonstration of the Product
The cleanest water
Independent testing from an EPA certified laboratory in the US has confirmed that 99.9% of all contaminants from tap water are removed with the UltraWater system. This allows your family to enjoy the reassurance of drinking water which is almost completely free of nasties such as chlorine, pesticides, heavy metals, pharmaceuticals and other unwanted contaminants!
There's no other non-electric ionising product which compares with the performance of the AlkaViva UltraWater pHD range of products. The water produced through this filtration system is not just delicious as its' alkaline; it's also chock-full of antioxidant power too! The UltraWater filtration system is patent pending with the ability to remove up to 99.9% of known contaminants in tap water including:
aluminium

fluoride

chromium 6

pharmaceuticals

detergents

THMs

VOCs

arsenic

agricultural chemicals

pathogens

mercury

lead

industrial waste

pesticides

chloramine

chlorine
The healthiest drinking water
There's up to 1000 times extra aced neutralisers in the UltraWater system compared to either bottled or tap water plus an increased amount of antioxidant potential - which is easily measurable - compared to any pill, juice or food. The UltraWater system allows you to keep your pH balanced and stay hydrated at the same time.
US manufactured
When you drink from the UltraWater filtration system you have the reassurance of knowing that it's a US manufactured technology. The technology used for UltraWater is proprietary with the manufacture taking place in the heart of Nevada, in Reno. Only materials which have been proven to be contaminant free and safe are used in the process.
Comparing the results
The UltraWater filtration system may sound great but it's no advertising gimmick; it really is the best and that's proven by this comparison with the older style carbon filters.
The UltraWater guarantees that all of the following will be removed:
pharmaceuticals

arsenic

fluoride

lead

other heavy metals

chloramines

byproducts of disinfection

chlorine
In addition, it will also enhance some of the healthy properties.
Comparing other filter brands, the Velara Velaqua will also enhance healthy properties but will only remove chlorine; all of the other contaminants will remain. The Multipure performs a bit better but still leaves pharmaceuticals, fluoride, byproducts of disinfection and some heavy metals in the water, plus it doesn't enhance the healthy properties.
In tests when compared to other filter brands, there really is no comparison with UltraWater.
For alkaline water which is an antioxidant, contaminant free, energised and delicious too, the cost is ridiculously low, just a few pennies for every gallon.
The Benefits
Using the UltraWater filtration system you could enjoy:
a pure water system which doesn't cause any of the usual waste. It takes more than four gallons of water to produce just one gallon of clean, purified water using reverse osmosis healthy fluids. Unlike other filtration systems the minerals for alkalising are not removed during purification

entirely free from chemicals with 100% natural elements which will biodegrade

an eco-friendly production so you won't leave a bigger carbon footprint by using it

a clever design which allows less power to be used due to the efficiencies of the design. The need for plastic bottles is also eradicated, in turn cutting back the harmful plastic debris which floats out to sea.
You may be wondering why you would need the UltraWater system if you already use a filter but the truth is that many harmful substances such as heavy metals (including copper, arsenic and lead) will not be removed and neither will pharmaceuticals, industrial chemicals or fluoride.
Technical details
Made in the US

2 litre jug capacity

40 gallons filter life duration or 30 days whichever comes sooner

Fast filtering - produces 1 litre per four minutes (other designs take 7 minutes per litre)

Life indicator for filter set at 90 days (other designs are set at 30 days)

Just £29.95 per replacement filter

8.5-9.5 typical pH range

-150 to -250 mV typical ORP range

Up to 400 mV typical ORP reduction

Eco-friendly with no waste plastic

All materials BPA free

Essential minerals retained including potassium, magnesium and calcium
Product Reviews
This product hasn't received any reviews yet. Be the first to review this product!