Omega Juicer 8006 Chrome Nutrition Centre
Product Description
Omega 8006 Juicer Nutrition Center
We are now excited to have in stock the new Omega 8004 & 8006 Juicers which are the upgraded version of the Oscar VitaMax 900. The Omega's feature upgraded parts including an 8 times stronger GE ULTEM Juicing augur for maximum juice yield and a convenient integrated handle for your Juicer.
The Omega 8004 and 8006 are regarded as simply the best single gear juicers on the market with outstanding juice yield from an extremely robust and well built machine that is backed by an Industry leading 15 year warranty, simply do a search on Google or watch the video reviews on youtube.com and you'll get an idea of the extremely positive customer sentiment expressed for the 8006 and 8004.
The Omega Model 8004 white and 8006 chrome are single gear masticating juice extractors. Using a low speed of 80 RPMs results in minimal heat buildup and oxidation promoting healthy enzymes and longer lasting juices. Designed and engineered for health-conscious individuals who want a greater variety in their daily juicing routine, the Omega 8004/8006 has the ability to also juice everything from wheat grass and leafy greens to fruits and vegetables. Not just or juicing, the Nutrition Center turns nuts into nut butters, extrudes pasta, grind coffee and spices, mince herbs and garlic, make baby food and frozen desserts, and extrude soy milk. The 15 Year Warranty the longest in the Industry – guarantees you've purchased "the last juicer you will ever need to own"
Juicers.ie is the Official Omega Distributor in Ireland
Product Video
Key Features
Fruit and Vegetable Juicer
Wheatgrass and Leafy Green Juicer
Pasta Extruder
Grinder/Mincer
Prepares Nut Butters, Baby Food and Frozen Desserts
Soy Milk Extruder
NEW More Durable Auger – GE's ULTEM material results in an auger 8 times stronger than others.
15 Year Warranty – The longest in the industry guarantees a confident purchase.
Motor – 1/3 Horsepower 3600 RPM Motor gears down to 80 RPMs – 2 Horsepower with the gear reduction.
Low Speed 80 RPMs – Ensures full taste and high nutritional values. Powerful motor chews the plant fibers and penetrates membranes to extract vitamins, enzymes, and minerals.
Continuous Juicing – Automatically ejects pulp into a pulp container that allows for continuous juicing.
Quality Engineering – Heavy-duty construction using the highest quality materials equates to a juicer that is engineered to last a lifetime.
Built in Reverse – The built in reverse prevents clogging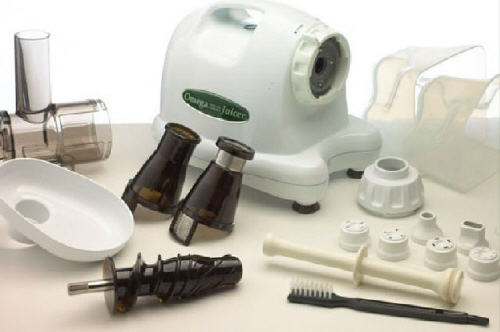 Juicy Rating
Technical Specifications
15 year Warranty
Dual-Stage Juicing System for Maximum Efficiency
No Foaming /No Clogging
Easy To Use & Clean
6½" W x 14½" D x 15½" H
Low-Speed 80 RPMs
13 lbs
Please note that the packaging may state 8226 with the 2 repressing that it is 220v which is suitable for UK / Europe. Apart from that this is the same as the 8006 in every way.
Customers Also Viewed
Product Reviews
Showing reviews 1-10 of 31 | Next
Game changer :)

Posted by Tom on 26th Feb 2019

It's great, the juicer is really useful, if you want to improve your overall well-being. I would say it's fast way to get healthy. Recommend!

Absolute fantastic juicer

Posted by Denise Reid on 19th Feb 2019

Absolutely deserves 5 stars, juices everything very quickly, and super easy to clean. I would highly recommend this juicer

Absolutely amazing!!

Posted by Anne Marie on 12th Dec 2018

I have had my juicer less than a week and I can confirm that it works like a dream, produces delicious juice and is very easy to clean. It's a fabulous machine.... not cheap, but worth every cent.

Absolutely amazing!!

Posted by Anne Marie on 12th Dec 2018

I have had my juicer less than a week and I can confirm that it works like a dream, produces delicious juice and is very easy to clean. It's a fabulous machine.... not cheap, but worth every cent.

Omega 8226 also called 8006

Posted by Unknown on 30th Nov 2018

Juicer is easy to clean and assemble, fruit or vegetable pieces need to be cut small enough ....as mentioned in many reviews. It Makes lovely juice!

Great Juicer from an efficient company

Posted by Unknown on 29th Aug 2018

Fantastic product!

Simply amazing

Posted by Roxana on 30th Jul 2018

Simply amazing. super tasty everything you do. super easy to clean

We use this juicer every day twice

Posted by Johannes van de Voorde on 6th Jul 2018

This is the second Omega Juicer we have bought and we are using every day.
In the morning for lemon, Orange and other fruitjuice and in the afternoon for green juices.
Sofar we have had no problems (after 6 months use)
These juicers are very easy to use and to clean.
Good value for the price.

Best juicer

Posted by mary hanley on 6th Dec 2017

I read lots of reviews on various juicers before I bought this Omega . It is exactly as described (and product description is very good. I have made almond butter and various juices and all turned out great. It is really easy to clean and doesn't take up a lot of space .I have been juicing for years and this Omega is by the best one I have ever used.

The Work Horse of Juicers

Posted by A. Carew on 30th Sep 2017

I have had this juicer for over 2 years & it is still going strong. I have just had to buy a replacement juicing screen - this is after juicing from once a day to up to 3 times a day! I cannot recommend it highly enough. Easy to clean & not too noisy.
Showing reviews 1-10 of 31 | Next