Description
The Champion Juicer Greens Attachment is specifically designed for those leafy greens everyone loves! Now you can "Extract the Max" amount of juice from wheatgrass, kale, mustard greens, and just about any other leafy greens with the new Greens Attachment for the Champion Juicer.
Like the superior build quality of the US-made Champion Juicer, the Champion Greens Attachment has been made to the same high standard. Constructed of tough BPA-free clear Tritan, with a stainless steel screen insert and long single auger, the Greens Attachment will fit all Champion Juicers manufactured from 1989 to the present time. It will provide you with a higher yield when juicing leafy greens and it will allow you to finally juice wheatgrass easily with your Champion Juicer.
It juices wheatgrass so fast, that you have time to (and should) put the pulp through the juicer for a second pressing to extract the max.
What is included with the Wheat Grass & Greens Attachment?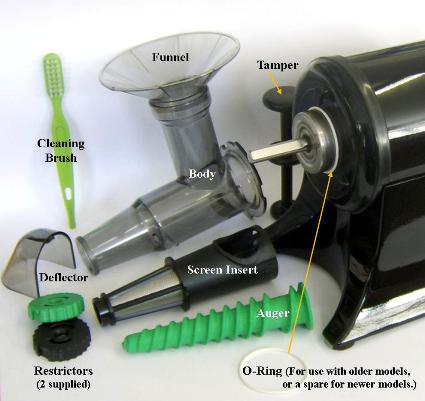 Auger
Screen Insert - with Stainless Steel Screen
Body - made of Tritan
Funnel - made of Tritan
Tamper
Restrictors (1 green, 1 black for serial no.s starting OCM) - to squeeze the pulp at the outlet
Deflector - to deflect the pulp downwards, made of Tritan
O-Ring seal - stops leaks at the motor face (Note: These are mainly for use with older Champion Juicer models. Recent Champion Juicers already have one of these o-rings, so this can be used as a spare.)
Cleaning Brush - for cleaning the stainless steel screen
Instruction Manual
Specifications
Dimensions: 210mm H x 50mm L x 140mm W
Weight: 550g
Warranty: 12 months