Description
Juicers.ie is delighted to be an official authorised Airfree Ireland retailer. Airfree Purifiers are the world's safest and most tested air purifiers and in our view the best value air purification products on the market today.
The new Airfree P150 Air Purifier is Airfree's most powerful air purification and air sterilising product. The P150 is ideal for larger rooms up to 60 cubic metres (650 square feet) and uses the same unbeatable air purification technology used in all Airfree models. The P150 features upgraded internal components and a new outer casing provide even greater air cleaning efficiency than ever before with up to 3 times the capacity of previous generation models. All the Airfree air purifiers offer unbeatable home protection against Allergens, Virus and Bacteria, they are totally silent and considered the most effective units for Asthma sufferers and anyone with respirable difficulties and allergies. Airfree are currently our most popular selling air purification and air filtration products.
The Airfree P150 air purifier uses a natural ceramic core which incinerate's unwanted contaminants like mould, viruses, tobacco smoke, dust mite skeletons, faeces, pet dander and bacteria. With no replacement filters or parts to maintain, no ozone output and a sleek award winning design. The Airfree Air Purifier is a great choice for those who want a simple plug-in and go air purification solution!
How does it work?
Airfree is the only air purification technology that safely destroys airborne allergens, mould spores, mildew, dust mite allergens, viruses, bacteria, and pet dander. Airfree does not use harmful emission such as UV light or ozone. Airfree uses heat instead with no noticeable heat contribution to the room temperature. Airflow is quietly achieved through air convection generated by Airfree´s patented Thermodynamic Sterilizing System (TSS™) that sterilizes air at high temperatures. Cooler air is then continuously drawn into the Airfree. No need for a noisy fan. No moving parts and best of all, no maintenance or filter changing!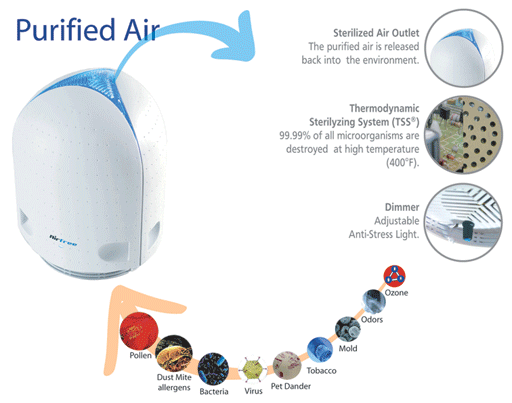 'Real Life' Tests by renowned Institutions worldwide.
As with all Airfree air purifiers, The P150's exclusive patented technology has been rigourously tested in 'real life' working environments by some of the world's most renowned institutions and laboratories in six different countries including the USA, Sweden, Germany and Portugal. These tests prove that Airfree totally destroys up to 99.99% of micro-organisms that pass through its patented ceramic core - no matter how small or hazardous they might be.
Please visit the Airfree website - Test results section here for details of test results and certified product performance>
Mould - Tobacco Smoke - Virus - Bacteria - Pollen - Dust Mite Skeletons - Faeces - Organic Odours - Ozone - Pet Dander- Germs
Why choose Airfree?
Efficient: Airfree® has been tested in real working environments with credible ISO laboratories for microorganisms such as mould spores, bacteria, viruses, and dust mite allergens that pass through its patented TSS®, regardless of how hazardous or miniscule they might be.
Faster Performance: Microorganism reduction begins just 15 minutes after the Airfree® is plugged in.
Silent: No sound emission.
Small & Portable: The Airfree P150 air purifier is lightweight and easily transported from room to room. Dimensions: 8.4" (21.5cm) Diameter x 10.4" (25.5cm) Height. Weight: 2.9lbs (1.48Kg)
Economic: Airfree TSS® technology uses less electricity than a 55W light bulb and requires no replacement parts.
No filters or UV lamps to replace: Ongoing replacement filters for other air purifiers can cost over €250 a year!
Easy to install and use: Just place Airfree® on the floor and plug it into the nearest electric outlet. No need for constant maintenance or cleaning.
Safe: No need to touch or change dirty and contaminated filters. Electrical safety is assured by the CE and TUV Seals of Approval.
Ozone and Ion free: Airfree TSS® technology is ozone and ion free and has no hazardous emission. Airfree® reduces toxic and corrosive Ozone, which according to the EPA may trigger asthma and destroy lung tissue.
Durable: Airfree® has a rugged and durable design with no moving parts, resulting in virtually no wear and tear.
Exclusive Clean Technology: Airfree TSS® technology uses heat alone to incinerate airborne microorganisms. No fiber-glass filters, triclosan-coated paper nor any type of material harmful to you or the environment when disposed of. Airfree® is the only technology that reduces ozone while simultaneously destroying microorganisms.
Anti-Stress Light: The exclusive Airfree® dimmer controlled anti-stress light. Ideal for children's rooms can also be used as a night light or turned off completely.
New user-friendly warning sensor: Airfree's state of the art sensor warns users if their unit is improperly installed.
Award Winning Design
Certified Performance: From by some of the world's most renowned institutions and laboratories, please visit http://www.airfree.com/testes/testeshome.htm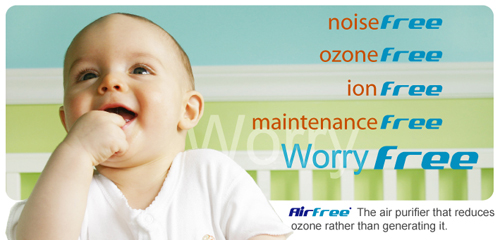 Technical Specification
Dimensions: Diameter 8.4" (21.5cm) x Height 10.4" (25.5cm)
Weight: 2.9lbs (1.48Kg)
Warranty: 2 years
Voltage: 220-240V
Room Cleaning Capacity: 60 cubic metres (650 square feet)
Wattage: 52W
Compare Models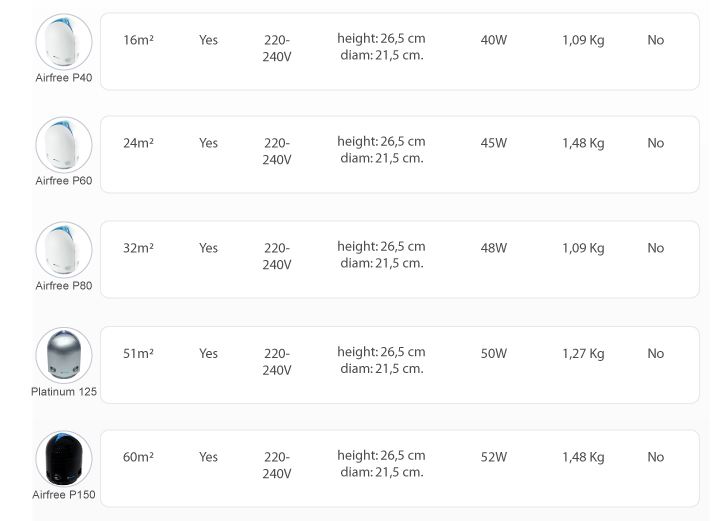 FAQ's
Why is Airfree considered 'safer' than conventional air purifier methods such as HEPA filters and Electronic or Plasma type air cleaners?
No Filters!
There are NO FILTERS to change. Airfree totally destroys all contaminants leaving behind no residue. Hepa air cleaners only catch the contamination. If the hepa filter is not changed on time the collected pollutants (now super concentrated ) begin to work loose and re-enter your air space. Remember, a HEPA filter only captures contaminants. Airfree destroys them.
The filters employed in other air cleaners frequently employ fibreglass, triclosan paper and materials that can be harmful to the consumer or the environment.
Airfree will not emit ozone ( considered an asthma trigger by the Amercian EPA). It does not employ any technology which generates any type of dangerous emmission, no Ionizer, no UV Light and no Ozone Generator. In fact Swedish independent tests show Airfree to actually reduce ozone by 26%.
Will one unit be powerful enough for my room?
One Airfree P150 Platinum air purifier is powerful enough to purify the air in large rooms up to 60m³.
How much does it cost to run?
Airfree has none of the ongoing costs associated with filter type air purifiers (hepa filters can cost from €50.00 up to €250.00 each per year for some machines with UV bulbs costing around €40.00 each), and running 24 hours a day 7 days a week consumes less electricity than a 55w lightbulb.