Aquasana Powered Water Filtration System Pitcher Version in White
Aquasana Powered Water Filtration System Pitcher Version in White
Product Description
Aquasana Powered Water Filtration System
This new technology converts normal tap water into clean and pure water
It is the only model available in the dispenser version that filters 96% of chlorine and chloramines.
It is the worlds first powered water filtration system that uses power to provide pure water fast within seconds unlike the leading filter which relies on gravity.
Removal of Contaminants
It has been tested and proven to reduce
Heavy metals like lead and mercury

Chlorine resistant cysts like giardia and cryptosporidium

Organic chemicals like herbicides, pesticides and VOCs

60 contaminants including asbestos in comparison to other pitcher style filters that reduce 5 contaminants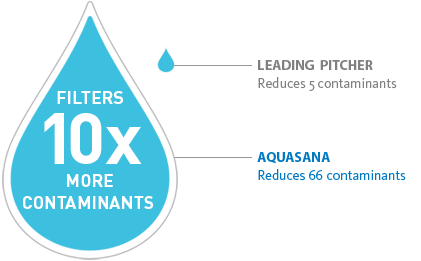 Functionality of the Filtration Systems
As soon as the dispenser is placed on its dock, it quickly powers up and water is forced through the patented Claryum selective filtration filter. It reduces 10 times more contaminants than the leading water filtration pitcher, retaining the healthy minerals at the same time. The filter retains Calcium, Potassium and Magnesium. It will also reduce acidic compounds which will improve water alkalinity.
Features of the Powered Filtration System
The filtration system features a slim design to provide more counter space.

The 16-cup dispenser provides on demand more than 3.5 litres filtered water at the touch of a button.

The dispenser system can also be placed in the refrigerator to obtain cool drinking water.

Fewer filter replacements in comparison to the leading gravity-based pitcher
Technical Specifications
Volume Capacity: 16 cups (3.79 litres)

Operating Temperature: 4.44°C - 32°C

Rated Flow Rate: 1.8 litres per minute

Capacity of Filter: 320 gallons / 1,211 litres or 3 months (whichever comes first)

Min-Max Working Pressure: 20-70 psi (137-482kPa)

Voltage: 240V

Warranty: 1 Year

BPA Free Material

Available in White
Customers Also Viewed
Product Reviews
This product hasn't received any reviews yet. Be the first to review this product!