Vibrodisc Oscillating Vibration Exercise and Fitness Machine
Product Description

Get the TOTAL BODY WORKOUT in 20 minutes per day. Exercise has never been safer and more fun than with the new Vibro-Disc, this innovative new design allows you to incorporate a step platform workout while utilising all the benefits of Weight Bearing Vibration Technology.
Whole body vibration training has hit the mainstream and is now available for home use! Almost any exercise from a typical gym workout or yoga class can be performed on the platform. The Vibro-Disc features 20 speed settings and 3 preset programs or you can create your own program to suit your individual needs. Take your ordinary exercise routine to a whole new level!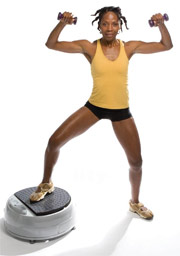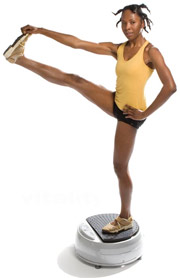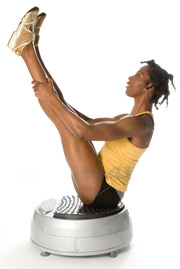 Features of the Vibro Disc Vibration Machine
20 speed settings
3 preset programs
Remote control included
No assembly required
Easily transportable
Powerful 1.5 hp motor
Sturdy – built to last
Freedom of movement to perform a wide range of exercises
Detailed instruction manual includes the '20 Minute Total Body Workout!'
Vibro Disc Video
Vibro Disc Vibration Machine comes in 4 great colours, all units include rubber handles!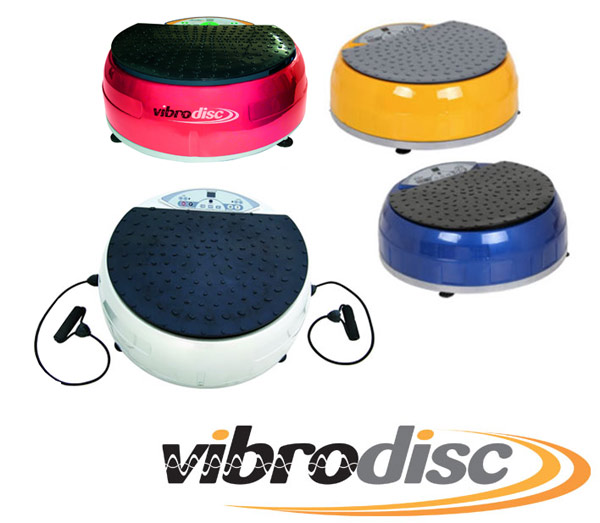 Specifications
Colour Options: Silver/Blue/Yellow
Dimensions: 114 cm x 64 cm x 70 cm
Net Weight: 33 kg
Wattage: 200W
Warranty: 3 Years
Max Weight: 145 kg
Features: 3 pre-set programs, 20 speeds, remote control, easily transportable, detailed instruction manual includes '20 minute total body workout'
What are the benefits attributed to vibration exercise
Improved muscular strength
Rapid recovery time from sports injuries; torn muscles, sprains, swelling, etc
Increased in flexibility and range of motion
Enhanced critical blood flow throughout the body
An increase in bone density
Acceleration of weight loss and reduction in the appearance of cellulite
Decrease cortisol levels and a increase of the 'happiness hormone' serotonin and neurothrophine
How does it help weight loss and strength training?
The improvement of the muscle performance after a short period of vibration therapy is similar to what occurs after several weeks of heavy resistance training.The improvement of the muscle functions after resistance training has been attributed to the enhancement of the neuromuscular behaviour caused by the increasing activity of the higher motor centre. The improvement of muscle performances induced by Vibration Therapy suggests that a neural adaptation has occurred in response to the vibration treatments.
Vibrations stimulate the biological system of athletes in the same way as strength training or explosive training. This stimulation can be applied in a much shorter period of time as compared to the time needed to perform traditional training sessions.
Vibration Therapy opens a new window in sports science and gives coaches and scientists new possibilities for studying and enhancing human performance.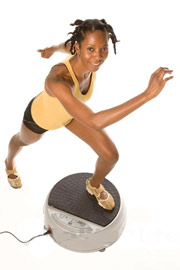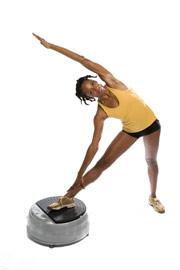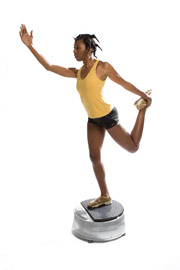 Can the elderly use it?
Yes. Vibration treatment is a special type of exercise that may be particularly suitable for older persons.
It does not require much time or effort
does not cause potentially traumatic vertical displacements of the involved joints
It specifically trains type II muscle fibres, which are selectively lost during the aging process
How does it help with osteoporosis?
Based on numerous reports, Vibration Therapy is a more useful tool for the prevention and treatment of osteoporosis than pharmacologic treatment of osteoporosis.
Who can benefit from a vibration platform?
The vibration platforms have been used to help a wide variety of physical health complaints and some people have reported an increase in a feeling of optimism; the stimulating effects of the vibration machine can help counteract certain types of depression and loss of motivation.

Scientific research on the effects of vibration platforms has been conducted all over the world. Resulting publications in leading medical research journals suggests that people with debilitating conditions such as osteoporosis, arthritis, multiple sclerosis, Parkinson's Disease, and stroke victims can yield the benefit of exercise while working within their personal limitations and minimising stress on the joints and ligaments.

You can perform static or dynamic movements including standing, sitting, kneeling, lying, and placing your hands on the platform. Almost any exercise from a typical gym workout or yoga class to passively sitting on a chair and resting your feet can be done on a vibration platform.
How does it work?
In traditional strength and power training the load on the muscles is determined by the weight lifted. A specific frequency and amplitude of vibration is chosen and the movement of the plate loads the limbs. The vibrations stimulate a reflex contraction within the muscle which leads to a high level of muscle activation and exertion. The superior muscle-activation that the vibration machine stimulates compared to conventional training, means that less time is required to work muscle groups completely.
In order to achieve maximum results, the individual heart rate is used as a guideline for setting the intensity of the vibration. The body begins burning fat at approximately 65% of the maximum pulse rate. While exercising, the pulse rate should generally be at 60 - 70% in the first few weeks. Within a few weeks of undertaking a routine of 3 workouts per week of 30 minutes each, the intensity can be increased to the optimal fat burning rate of 70 – 85% of your maximum pulse rate.
Product Reviews
This product hasn't received any reviews yet. Be the first to review this product!