Product Description
SoloStar-II is the new and improved model of the SoloStar line of single-auger juicers. SoloStar-II features improved auger design and advanced filtering technology that has raised the bar for home juicers. It's the only juicer that features 2nd Generation Dual-Stage Juice Extraction - resulting in unsurpassed efficiency and versatility from a single-auger juicer. That means you get more delicious juice from a wider variety of fruits, vegetables, and grasses than ever possible from a single-auger juicer. Plus its gentle low-rpm juicing process delivers even more of the essential nutrition from every last drop of juice.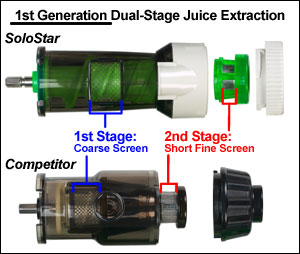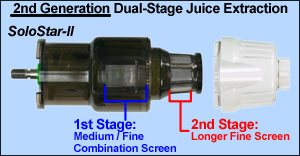 SoloStar-II has shown dramatic improvements in performance over the original SoloStar. The original SoloStar was the first juicer to employ dual-stage juice extraction, which resulted in higher yields for single-auger juicers. Dual-stage juice extraction uses a two-step process to extract more juice from produce. In the initial crushing phase, juice is extracted before it can be reabsorbed into the pulp. In the second stage, the pulp is squeezed again to obtain the remaining juice. Although the original SoloStar showed dramatic improvements in performance over ordinary single-auger juicers, its performance with certain types of produce was limited.
The performance of our dual-stage juice extraction process has not gone unnoticed. The SoloStar's reputation as the finest single-auger juicer available has led to competing models that have imitated our designs. In fact, new models introduced by our competitors feature the same dual-stage juice extraction process found in the original SoloStar.
However, in response to our customers' desires (and in an effort to offer the latest juicing technology available) our researchers and engineers have developed the 2nd Generation Dual-Stage Juice Extraction process that makes the SoloStar-II the most versatile and most efficient single-auger juicer available. SoloStar-II is the only juicer to feature this new technology and its juice yield and versatility set it apart in a class of its own.

Features
80 RPM Motor
Dimensions (l x w x h) 440x190x350mm
Weight 7kg
Feeding Chamber 37mm
Parts Warranty 5 years
Motor Warranty 5 years
Also Makes Soups, Dips, Noodles, Pasta, Ice Cream, Nut Butters, Fruit Sorbets
Customers Also Viewed
Product Reviews
This product hasn't received any reviews yet. Be the first to review this product!