Pro Bounce Folding Rebounder 40 inch with Free Rebounding DVD
Product Description
As quoted by NASA, exercise on a rebounder is "the most efficient and effective exercise yet devised by man". It is an excellent, non-impact, aerobic exercise gained by bouncing on a mini-trampoline.
Buying a rebounder can be one of the best investments you will ever make - Rebounding is a unique exercise and has huge benefits to the lymph system, flushes dead cells from the body, supplies oxygen to the cells and is an incredible stress reliever. The bottom line is rebounding is excellent for your health and makes you feel great!
The Pro Bounce Folding Rebounding Free Workout DVD is produced by celebrity juicing and health and enthusiast Jason Vale and filmed in the beautiful mountains in Southern Turkey; Jason Vale takes you through your paces with 3 individual 20 minute workouts designed for all fitness levels. There are also health and safety tips and a super powerful 'circuits' session. It is suitable for all ages and fitness levels.
The Pro Bounce Folding Rebounders are suitable for everyone - in fact, this is one of the reasons why rebounders are such sound investments! The whole family is able to benefit from rebounding.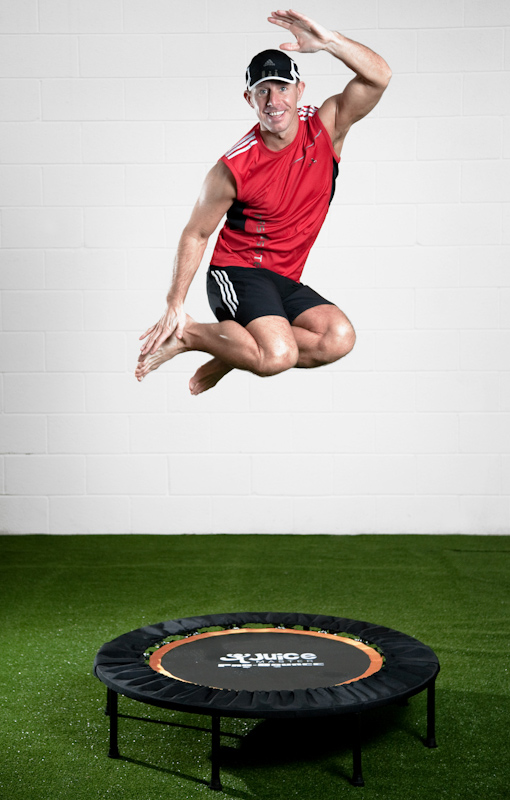 Key Features
Soft bounce yet durable and solid design - hard bounce rebounders just aren't very good for your joints
6 legs - stable & durable
The legs are spring loaded and fold flat against the machine when packing away
32 Dual Tapered Springs and a slip resistant mat, makes the Pro Bounce user have a jolt free experience and improved comfort
Rebounder diameter 40 inches
Half-fold design built to the same standards as trampolines
Easy to carry around and store away
Robust hinge assembly offering a rebounding platform that is just as strong as a one-piece rebounder but halves the storage space
For users up to 100kg in weight / 15.5 Stone
1 Year Warranty on all Pro Bounce Rebounders
Free Carry Case with every rebounder
Product Video
Technical Specifications
Diameter: 40 inches/ 102cm
Weight: 8.8 lbs
Warranty: 1 year
Free Carry Case with every Rebounder and Free Rebounder DVD
Customers Also Viewed
Product Reviews
Top Dollar!!

Posted by Mark on 30th Apr 2013

Prompt,Courteous service,Great value bit of kit.Great aerobic,Calorie burning workout,No pressure on the joints,Definitely reccomend as its the easiest workouts have done so far!!
Many thanks.