Oscar 930 Pro Hurom Vertical Juicer Chrome
Product Description

The Oscar 930 Pro Juicer has now been replaced with the Oscar HU-400 Pro Hurom Juicer which is the very latest Vertical Juicer to arrive on the market in 2012. Please click here for more details >
Now with GE ULTEM super tough screens!
Slow speed vertical juicers are quickly becoming the most popular juicers on the market thanks to quicker juicing times with the larger feeding chute and extremely quick cleaning process. The innovative Oscar 930 Pro Juicer, from the renowned Oscar family of juicers features an extremely low RPM (70) yet juices faster and produces a higher yield of nutrient-rich living juice.
Oscar's reinvention of the single auger juicer combines all the advantages of a masticating juicer with the speed and efficiency of a centrifugal juicer.
Oscar 930 Pro Juicer Highlights
Higher yield than any other single auger juicer – giving you a richer and tastier juice with maximum nutrients and enzymes.
Faster juicing process than ever before – full pieces of fruit and vegetables can be quickly dropped into the feeding chute, only using the tamper if food gets blocked, the larger juicing screen also speeds up the flow of juice and rotating silicone brushes keep the screen unblocked and juice flowing quickly.
Self-feeding - the design of the new auger cuts and pulls in fruit, vegetables, leafy greens and wheat grass equally well and quickly grinds them between the larger surface areas of the auger and juicing screen.
Clean up is fast and easy - can be quickly disassembled with only 5 juicing parts to wash. No need to clean between different juices , just pour water through between juices and one won't taint the other - great for juice bars and frequent family use!
Versatile – The Oscar 930 Pro is more than just a juicer, you can make a wide range of healthy smoothies, soya, grain and nut based drinks.
Compact, attractive machine - small footprint so takes up less space on your worktop. Available in White or stylish Chrome, with a convenient handle for lifting the juicer.
Quiet in operation - with such a low RPM the Oscar 930 pro is unobtrusive while in use.
Heavy Duty Construction - Designed for heavy duty juicing, the Oscar 930 is built from high quality, commercial grade materials. The Oscar 930 Pro is strong enough to stand up to the heaviest commercial use.
Ideal for Juice Bars, Restaurants, Spas, Health Clubs and Wellness Clinics - or your own home for serious juicing power and economy!
Oscar 930 Parts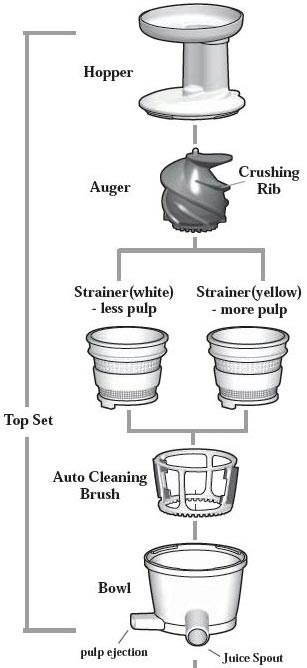 Technical Specifications
Shipping Size (L x W x H) 40 cm x 17 cm x 25 cm
Shipping Weight 5.20 kg
Motor 70 rpm Single phase induction motor
Juicer type: Cold Press
Compatible Foods: Wheatgrass, Fruits, Vegetables & Leafy Greens plus soaked nuts, beans, pulses & grains for drinks
Construction Food Grade Polycarbonate, Melamine (BPA Free)
Style Table top
Colour: Chrome
Wattage 200 W
Warranty Domestic 20 Year Warranty on Motor, 5 years on Parts and Labour
Warranty Commercial 3 Year Warranty on Motor, 3 years on Parts and Labour
Oscar 930 Product Video
Customers Also Viewed
Product Reviews
This product hasn't received any reviews yet. Be the first to review this product!