Description
Jupiter Athena Water Ioniser
Athena is one of the very best makers of water ionisers in the world, with its advanced system coming out top in an EPA certified independent US laboratory test.
With cleaner water produced from dual filtration, the Jupiter Athena uses the market leading Biostone Filtration System which boasts unbeatable durability. There's also the DARC Cleaning System (patented) plus a variety of installation choices including direct pressure, under sink or counter top.
The best counter top ioniser
The Jupiter Athena was shown to be the top performing ioniser in tests performed by an EPA certified US laboratory, with no other returning better results. With its elegant styling, durability and innovative features the Athena represents real value for money. An Athena purchase also means an investment into Emco Tech, one of the global leaders in ionization technology, providing not just excellence of design but longevity, experience and reliability. For countertop ionisation systems, there's no better than the Athena for features, durability, technology or all-round performance.
You may see certain companies claiming extraordinarily high ORP numbers or high voltages but don't be fooled by this. These numbers are actually immaterial if there's a high pH level; it's only alkaline water at around pH 8.5-9.5 combined with a desirable ORP which provides any benefits. In addition, a pH level of more than 10 typically produces unpleasant tasting water for most people; this is caused by the high levels of minerals which provide a bitter flavour. When you're looking for an ioniser, the most important factors to focus on are durability, efficiency and performance. The Athena can still produce high negative ORP results at higher pH levels if that's what you want, but its best utilised to deliver decent ORP figures at a more beneficial pH range. And that's the type of water you'll really want to drink. The Athena is a counter top ioniser which really gives you much more for your money.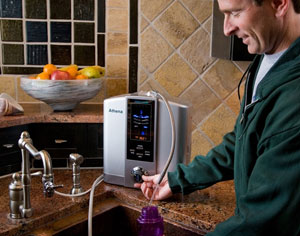 Superior filtration
The Biostone Filtration System combined with pre-filtering result in water which is 99.9% free of contaminants; out of all the Jupiter Science ionisers, this combination can only be found on the Athena.
On the Athena, the Biostone Filtration System comes with .1 micron filter as standard but also offers a .01 micron product upgrade which has the additional benefits of filtering all bacterial and viral contaminants too. This filter upgrade is particularly recommended for wells and other untreated sources of water. Whichever option you pick, the water will be filtered to an exceptional level which will produce pure results which won't prevent the desirable natural minerals from remaining; this creates not just ionised water, but water which is healthy too.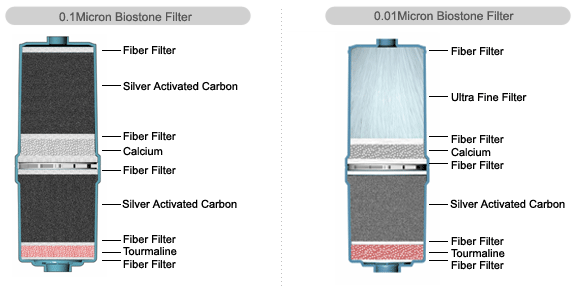 The Jupiter Science Mesh Diode Electrode technology is a new and patented design which is how the Athena is still such a compact size, despite the features. Some manufacturers may claim that offering a bigger plate size is the only route to effective ionization; this simply isn't true.
Main features
A lot of thought will inevitably go into the purchase of your ioniser so the Athena has been made to be durable and cost-effective. Keeping the electrodes clean is a vital part of this; they are a critical component and is allowed to clog up will impact on the lifespan of your machine. Many other ionisers use a process known as reverse polarity to keep the electrodes clean, but this not only decreases their efficiency, it also results in build-up of scale. In addition the unit cannot be used during the cleaning process making it extremely inconvenient.
The Athena is completely different, using the patented DARC system, offering far superior results. Double Automatic Reverse Cleaning - DARC - gets rid of mineral scaling completely resulting in long-lasting efficiency and superior performance. In addition, DARC is a "clean as you use" technology which means there's no down time and your ioniser is always available for use.
Choose the installation
A valve controls the flow on your Athena means that you can control the performance of the ionisation to your own exact requirements, giving you absolute control on the management of the water pressure functions. This superior flow control option also means that you can choose between various installation types:
Using a diverter fitted from the tap head, the ioniser is used at the sink

No diverter unit but with plumbing directly linked to a cold water supply. This means the Athena can still be used when hot water is in use

Under the sink; this has the advantage of being totally invisible from view with just a small tap unit. An additional kit is required for this option.
Performance Features
Some of the highlights of the Athena include:
Innovative electrode design developed over more than a quarter of a century using the Emco Tech and Jupiter Science combined resources. The model includes five mesh electrodes made from platinum-titanium

Patented DARC cleaning system which allows you to continue using your ioniser even while cleaning is taking place. You will also provide far better protection for your electrodes and in doing so elongate the lifespan of your machine.

Biostone Filter System which provides a unique dual filtration set-up, including a robust nine step filtration process

MICOM Electronics which optimise the ORP and pH levels of the water simultaneously and help to ensure that your ioniser stays in the very best condition. A warning light system informs you when a service is required

LCD Flow Rate Indicator with a designated flicker rate shows the rate at which the water is flowing through the Athena.

A Calcium Port which allows the addition of more calcium into the ioniser. The unit is so powerful that it's rare that any further calcium will be required for the majority of water sources. In soft water area or where the levels of calcium in the water are naturally low, a calcium port can be utilised to boost the performance of the ionization.
Protective design
As well as the main features there are a number of elements which are designed to provide a degree of protection for the unit. These include:
Low Pressure notification alarm which will become active when the water pressure falls below what's recommended as safe. Low water pressure flow can cause damage to the mechanics of any ioniser so the LCD alarm will protect your unit

Temperature Shut Down works via the thermal switch which immediately stops the ionisation process when and if the temperature gets too hot

Electrical protection is located via a glass tube fuse which protects the delicate circuitry in the event of a surge or fluctuation in the power supply.
Conveniently designed for your use
Some of the features you'll find on the Athena have been created specifically for a more user-friendly experience:
Acid and Alkaline Level Indicators which allow you to display numerically the degree of ionisation you have chosen. There's also further LCD icons which show the most frequent usage of a certain setting

Voice Confirmation audibly speaks aloud the kind of water you have chosen every time the ioniser is used. This feature can be adjusted by turning the volume up or down, as well as switching it off.

Dual FND Filter Life Indicator allows you to track and view the length of the life of both of the included two filters. This isn't a timer as you might see on cheaper models but a numerical filter counter instead

Change the Filter Reminder alert ensures that you get the maximum benefit from your ioniser by properly monitoring the use of your filters.
Extras included
Additional extras included with the Athena:
pH Test Kit incorporating test tubes, a pH colour chart and a reagent liquid so you can track and follow the performance of your ioniser and ensures you can drink the type of water you really want.

User Manual and Installation Kit which contains everything you need for a standard installation on the counter-top. If you opt for a custom or unique design you may require either adaptors or extra parts.
Product Video
Head over to YouTube to view a whole series of videos produced by AlkaViva's Jay in the US, showing how to use and install the Athena ioniser.
Technical details
18lbs weights

240V input voltage

14 inches height x 13 inches length x 6 inches depth

35-80psi inflow pressure

40-86F water temperature

Continuous electrolysis device

9 set or 48 custom programmable setting levels

Platinum-titanium mesh plates

Dual UltraWater Filtration System