Angel Juicer 7500 with Intelligent Auto Reverse
Product Description

The Angel 7500 is the same machine as the Angel Juicer 5500 but with a built-in auto-reverse function. When juicing it is easy to overload when juicing softer fruits and wheatgrass, the Angel Juicer 7500 automatically senses the additional pressure build-up and reverses out automatically to prevent blockages. This stops too much pressure building up inside the machine which could possibly damage the juicing screen.
Searching for a juicer that gives you the "highest extraction rate of any cold press juicer in the world" and stylish enough to be a feature piece in your kitchen? The Angel Juicer might be just what you are looking for!
The Angel Juicer, regarded as the 'Rolls Royce' of juicers, is an incredibly efficient Fruit, Vegetable & Wheatgrass Juicer; in effect it's a Live Enzyme "Nutrition Extractor", it provides the means to take the vital essences for health from fresh produce; vitamins, minerals and the all-important, live enzymes (Enzymes that commercially-bought pasteurised juice products have destroyed!) The juicer and all parts are made completely of stainless steel SUS-304 and the large twin gears have anti-bacterial properties adding to its unique hygienic construction.
Angel Juicer 7500 Highlights
All stainless steel with antibacterial stainless steel gears
Removes 95% of pesticides and agrochemicals on the surface of non-organic Fruit and Vegetables (by binding to the waste fibre)
The only juicer capable of efficiently extracting nutrients locked inside cellulose fibres so you get the maximum levels of enzymes and nutrients from deep within the fibres
Easy to assemble, use and clean (Only 4 juicing parts)
No additional attachments or adjusting required for fruits (always extracts maximum juice)
Six outstanding operational safety features
Extracts up to 3 times more juice & 3 times more nutrients than other twin gear machines
Intelligent Auto Reverse - automatically senses the additional pressure build-up and reverses out automatically to prevent blockages
3HP (Horse Power) grinding force with lower 86RPM speed
Super quiet when running
Highest quality design and construction
Grinds soybeans, beans, grains and coffee beans and makes delicious soy milk, tofu and nut butters
Angel Juicer has won 3 international awards and has been recognised as the Number 1 twin gear / cold press juicer in the world
Product Video
Juicy Rating

Technical Specification
Juices Wheatgrass? Yes
Dishwasher safe? No
All stainless steel construction – very hygienic
RPM: 82
3 HP Grinding Force
Dimensions (l x w x h) 540 x 260 x 360 mm
Weight (Unboxed) 9.5kg
Feeding Chamber 43mm
Parts Warranty 3 years (Domestic use only)
Motor Warranty 5 years (Domestic use only)
Colour: Stainless Steel

(the colour of the sticker on the switch buttons may vary, however, this is the latest Angel 7500 model)
* Please note the colour of the sticker may vary, however, this is the latest Angel 7500 model
Angel 7500 Parts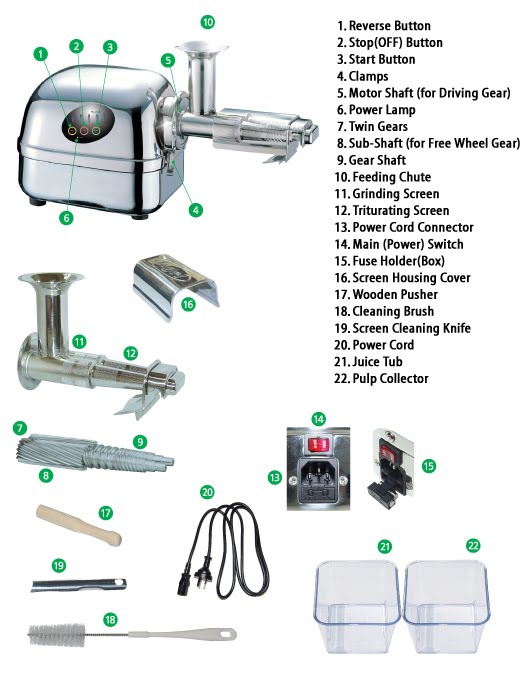 * Please note the silicone ring that fits around the juicing screen is not covered under warranty as it is an optional part as detailed in the manual.
Customers Also Viewed
Product Reviews
Super juicer

Posted by dsouzabs@yahoo.com on 5th Sep 2018

Like a sonata in G minor

Angel 7500

Posted by Gregory on 15th Mar 2016

The Best juicer, highly recommended.
Before I have Vertical Auger Juicer and Centrifugal Ejection Juicer but Angel 7500 is much more better!
Quality of juice from vegetables is very good.
If someone decide to purchase this juicer you will not regret it.
Delivery is fast and staff is very helpful if you will have some issue!






Angel jucier

Posted by Francis on 4th Feb 2015

It does what it say on the tin. I have used it with fruit and veg and the jucie is out of this world. This unit does cost more however with the cost of organic fruit and veg it is the most efficient unit for extracting the juice on the market. Just buy it

Fantastic juicer

Posted by Unknown on 28th May 2014

The angel juicer is just amazing does the job rely well , I am so pleased with the machine use it every day would have no problem recommending this to anyone.

Best juicer so far i ever used.

Posted by MICHAEL on 4th Mar 2014

Very good for all vegetables and fruits,less soft fruits which can be mixed with fibrous stuff.Excellent juice extraction.Cleaning is very easy.I would recommend it without hesitation. All our family enjoy the juice daily.THANKS TO ANGEL.

Angel 7500 exceptional and powerfull machine

Posted by Azs7 on 14th Jan 2014

I got this machine in january 2014. I started immediately to make juice to see how it works.WONDERFULL ! Not a single day without a juice !!!.Very happy with what I bought.Thank you!

Superb Juicer

Posted by Serge on 12th Nov 2013

Very quick delivery from juicers.ie, thank you. This juicer is fantastic! Chews all veggies i threw in it with no problem (pumpkin, leeks, spinach, carrots, cucumber, etc, also great with pomegranates, apples etc.). Excellent juice extraction. However does not work that well with soft fruits. Soft fruits can be juiced if mixing with more fibrous stuff (like carrots). But if you want to make pure pear juice from some ripe soft pears - you are out of luck. Default screen is designed for the best juice extraction of harder vegetables/fruits. Optional coarse screen is available for softer fruits, but it's pricey.
Cleaning is very easy, takes 3-5 minutes to clean. Overall excellent juicer, recommended without hesitation: if you can afford it and looking for a great juicer then buy Angel and you will not regret it.