New Jupiter Ultra Delphi Water Ionizer
New Jupiter Ultra Delphi Water Ionizer
Product Description
Jupiter Ultra Delphi Water Ioniser
The Ultra Delphi is the newest model, fresh from the combined talents of Jupiter and AlkaViva, and the part of the popular Delphi range. Having enjoyed a total revamp compared to its predecessor, the Ultra Delphi provides a 20% better performance by comparison. There's also a long list of extra features designed to enhance the lifespan of the unit. A neat ioniser unit, the Ultra Delphi fits perfectly under the sink, providing you with the ultimate control of the water you drink via controls mounted along the taps. You'll also have the benefit of hearing your selection confirmed via the audible voice feature each and every time the ioniser is used.
Deliberately intended from the outset as a unit designed to sit under the sink, the Ultra Delphi is made up of two separate components: a cutting edge ioniser unit which sits out of sight plus a sophisticated tap which is dedicated for the sole use of the ioniser. You won't need to suffer the hassle of a bulky counter top design; your kitchen surface will remain clutter free with the installation of just one elegant new tap. The Ultra Delphi is the only model currently on the market which offers a digital display as standard so you know exactly what's in your drinking water. And with whisper-light fingertip controls, you'll be able to change, monitor and control the most critical aspects of the quality of your water as and when you choose.
Installation of the Product
The power of the ionising unit
There's a myth in the world of ionisers that you require really large plates to get the very best results. However, this is not the case and in fact, your unit will simply gobble up more energy when these less advanced, power-hungry systems are used. The Ultra Delphi may be more compact but with the advanced mesh technology it employs, it delivers a powerful thrust as and when needed, harnessing the ioniser and providing a greater capacity per square inch by comparison. Not only does this provide a power advantage, it also helps to protect the electrodes.
The plates used in the Ultra Delphi are titanium which have been electro plated with platinum to create the best combination of both durability and conductivity. This means that you'll be able to enjoy the maximum power from your ioniser for many years to come. The new technology used for the mesh electrode is the reason why so much power can be derived from such a small size.
Having a more effective means of conductivity is the way that this has been achieved. Some manufacturers may claim that large plates are absolutely necessary to get the same outcome, but this is only the case when substandard technology or materials have been used. With more than a quarter of a century of cutting edge design, development and research, you can be certain that the Ultra Delphi is offering you the very best.
Longevity
Durability has been very much the focus of the Ultra Delphi during the design, especially with the DARC system from Emco Tech. Double Action Reverse Cleaning (DARC) provides the ability for the unit to perform an internal cleaning process, helping it to remain in the very best condition. However, the number of solid parts has been increased, replacing moving components to reduce any fragility in the design and enhance durability.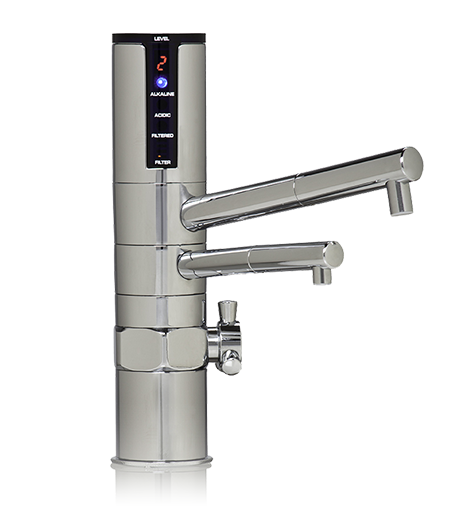 Keeping the electrodes clean is absolutely vital for the longevity of the unit, and as an investment into your health, you will understandably want your investment to endure. Many other ionisers currently available use a reverse polarity system to perform the cleaning; this doesn't completely eliminate scale buildup which in turn can negatively influence the performance of the electrodes.
The DARC system offers something completely new, and with absolutely no scale build up your ioniser will be pristine and in perfect working order for much longer. DARC is also particularly convenient, carrying out the cleaning cycle while you ionise so there's no annoying down time where you have to wait for your water. The advanced technology combined with the expertise from Jupiter mean that the Ultra Delphi is a unit that you'll fall in love with.
2 year warranty
Your Ultra Delphi will be hassle free and a delight to operate but to provide you with that extra reassurance you will also benefit from a two year warranty for all units serviced in the dedicated service centre in the UK. With such a longstanding company you can be sure that if you were to encounter any problems, they'd be around to help for many years to come.
A trustworthy source
When you buy your ioniser you need to know that you can really trust your supplier. Jupiter has selected Juicers.ie to be their official retailer in Ireland for more than a decade so you know it's a name you can trust. With lots of experience and product knowledge, you'll have both pre and post-sales support for as long as you need it.
Installing the ioniser
Specifically designed to be installed under the sink, the Ultra Delphi comes equipped with everything you need for an easy and quick installation. There's no need to purchase additional kits and you won't need any plumbing skills either. All that's needed is a little DIY confidence and you'll find the Ultra Delphi is up and ready to go within minutes. If you do opt to get a plumber's help, you won't have to fork out for a hefty labour charge as the job is so quick. And if you get stuck or need a helping hand, we're always around to provide technical support or to talk you through the bits you're not sure about.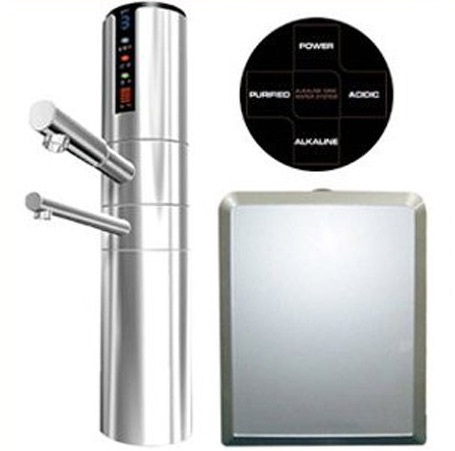 Optimum filtration
The same three step Biostone filter is used on all the Jupiter ioniser designs, using far infrared technology and the choice between a fine 0.1 micron filter or an extra fine 0.01 micron filter, plus an innovative mineral booster. These features make the Ultra Delphi one of the most effective and safest pre-filters available on the ioniser market. And what's even better, there's surprisingly simple to change, no more complicated than changing a battery. The unit will alert you when a new filter is required and you can simply order this online and then replace it yourself. There's no need for expensive maintenance for the basic running of the unit and at estimated less than 20p per day in operation costs (based on typical usage) it's surprisingly cheap.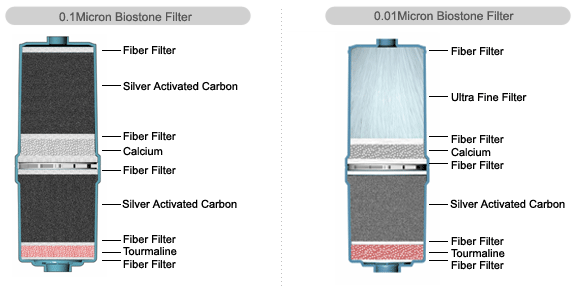 Use two ways
The Ultra Delphi cannot only operate as an under sink unit, if so desired it can also be fitted as a counter top design, unlike its predecessor. When you opt for an under sink design you'll have all the controls you need on the elegant electronic tap which is touch sensitive. But unlike other models in the range, the Delphi Ultra also has controls on the main unit too. Simply disconnect the base from the tap and slot it into the stainless steel articulated dispenser pipe (which comes supplied) and you're ready to go!
You may wonder why you'd want to switch to a counter top design from a swish under sink fitting but with this model you have the choice and flexibility to do so. You might fall in love with your Delphi Ultra so much that you decide to take it on holiday with you in a caravan - and after all, it's small and compact enough to travel! Having the option to use it as a counter top design means you can do this without any hassle. You no longer have to purchase another ioniser unit if you want to enjoy healthy water on holiday; now your favourite ioniser can travel where you do!
Main features
There are a number of features and highlights with the Ultra Delphi design; here are just a few:
2 year warranty included free

Innovative DARC system for cleaning gets rid of any scaling from minerals and protects the electrodes, enhancing the durability. DARC also means no inconvenient waiting for the cleaning cycle to complete

Emco Tech advanced technology provides platinum-titanium mesh electrodes which are far more powerful per square inch

Dual filtration with Biostone including a superior performance and a radical 9 step system

MICOM electronic circuitry ensures that the ORP and pH levels of your water are kept at optimum levels and helps to protect your ioniser unit

Inbuilt flow control valve that allows the water pressure to be controlled automatically to ensure the desired pH level is produced along with optimum ORP

Sleek under sink installation with electronic tap providing touch sensitive controls and 9 pH levels which can be easily changed directly from the tap

Free pH testing kit with a colour chart and a reagent liquid which allows you to accurately check the overall performance of the ioniser, and that it matches your desired level
Convenient and easy to use features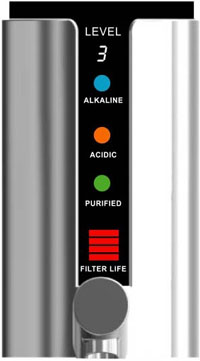 Audible confirmation of input. A voice confirmation feature repeats out loud the settings you have chosen every time the ioniser is used. You can alter the volume but turning it up or down or even switching it off completely
Acidic and Alkaline Indicators. The LCD indicator on the Ultra Delphi features a numerical display which shows the chosen level of ionisation. Other LCD icons also show the typical use for any given setting.
Indicator for filter life. The life of the filter can be accurately tracked by counting the number of times the filter is actually used compared to just a cheap times on inferior models.
Features which protect
There are a number of features on the Ultra Delphi which help to protect the unit including:
Temperature shut down. The sensitive water cell has a thermal sensor which stops the ionisation from taking place if the temperature rises too high.
Protection for the electrics. A glass tube fuse will protect against power surges or fluctuations, preventing the delicate circuity from becoming damaged.
T
echnical details
220-240V voltage
19 lbs. weight

20-99psi inflow pressure

Continuous electrolysis

9 set levels with a further 49 programmable levels

2-3 LPM output rate

DARC automated cleaning system

Platinum-titanium mesh electrodes
Dimensions of the tap
225mm height

50mm width

38mm countertop hole

140mm space required below kitchen counter
Dimensions of under sink unit
360mm height

270mm width

140mm depth
Product Reviews
This product hasn't received any reviews yet. Be the first to review this product!